The winner in the Love Is in The Air Blog hop was Audrey M! Congratulations, Audrey.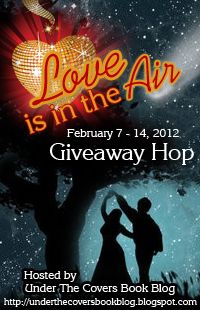 Welcome to the Love Is In the Air Blog Hop hosted by
Under the Covers
. This hop runs from February 7th through February 14th, so you have 1 week to visit the other amazing blogs that are participating and enter their giveaways.
One winner will receive eBook copies of the first 2 books in my Wicked Series,
Wicked: Tempt Me Not
and
Wicked: Leather and Lace
. These stories feature members of the Rock Band Wicked and are as sinful as the heroes filling the pages!
From Wicked: Leather and Lace

"You up for a little adventure, Roxy?"

Roxy swallowed to moisten her throat. "What did you have in mind?"

He grinned and glanced down at her breasts. Roxy's heart skipped a beat when he did. She knew then what he wanted and lord help her, there was no way she could let this man do body shots off of her and not straddle him right where he stood.

But the game worked both ways didn't it?

She looked at the white button-up shirt Luke wore underneath his leather jacket. The first several buttons were undone and she could see a hint of skin peeking out from behind the fabric. Would Holly consider this cheating? It was just a quick game of lick and suck, right? As long as she didn't let it go too far, her friend couldn't complain.

Holding his gaze, she smiled before reaching out and picking up one of the small lime wedges. "Where do you want it?" she asked.

He grinned and took a step closer to her. "Places that aren't legal in public."
HOW TO ENTER:
Subscribe to this blog via email using the form below.
Fill in the Rafflecopter form completely for your entry to count.
For extra entries, LIKE my Facebook Page and/or my Twitter account.
a Rafflecopter giveaway
To take advantage of all the contests, visit the other participating blogs listed below!