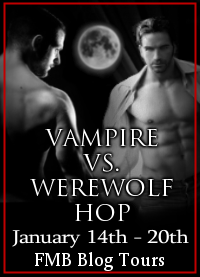 Welcome to the Vampire VS. Werewolf Giveaway Hop, hosted by
FMB Blog Tours
. This hop will run Jan. 14th - 20th and will be filled with yummy Vampires and Werewolves!
What are you playing for?
One winner will receive signed, paperback copies of my Paranormal Werewolf Romances,
The Calling
and its sequel,
The Gathering,
Books 1 and 2 of the Night Breed Series
.
Lily Graison
In a world where the supernatural isn't supposed to exist, one woman comes face to face with the monsters and fights to survive their call. Investigative reporter Rayna Ford is sent to the small community of Wolf's Creek to write an expose on a town supposedly over run with werewolves. Assuming the inhabitants to be under a mass delusion, she learns quickly that all isn't as it seems. Their plans involve more than a newspaper article and her life hangs in the balance as their motive for luring her to them is revealed.
Garrett Kincaid knows a thing or two about werewolves. He is one. After leaving his pack, he's spent the last twelve years pretending to be something he isn't. His closely guarded secret threatens to destroy him when he meets Rayna Ford, the woman his wolf has claimed as his own. When he learns the pack has lured Rayna to them in order to get to him, he races to Wolf's Creek to protect her from the very thing he fears the most. Himself.
The power struggle within the pack becomes clear once Garrett reaches his old home and learns of the packs plans for Rayna. The beast lurking beneath his skin is torn between protecting the woman he wants to call mate and keeping the balance within the pack on neutral ground. When choosing a side no longer matters, he does what he must to save his mate, even if that means making one of the most difficult decisions of his life.
When the stakes are high, and lives hang in the balance, can you ignore life as you know it to answer...The Calling.
Read the first 10 chapters Free!
The Gathering
Lily Graison
THE CALLING changed Rayna Ford's life forever, now in THE GATHERING, she will find out what she's truly become.
Rayna Ford didn't believe in monsters, until she became one herself. As a newly turned werewolf awaiting her first shift, Rayna puts all her trust in Garrett Kincaid, the man who accidentally infected her and changed her life forever. But when old enemies resurface and take her from the one man who vowed to protect her, Rayna must face her fears alone.
The Collective, the Breed leaders of all the preternatural species, haven't abandoned the dream of announcing their presence to the world and they still want Rayna to be the one who integrate them into human society. Her only chance at survival is to reveal the secret the breed leaders want her to show the world, but in doing so, she may alienate the very creatures she wants to protect and endanger her own life in the process.
Read the first 10 chapters Free!
Here's a small sneak peek at The Calling!
She sat up on her knees, staring down at him and swallowed a gasp when she saw him staring up at her.
His eyes had bled to wolf amber.
She couldn't look away. Although it was Garrett under her she knew the wolf was there. Staring at her with those bright, alarming eyes. She watched him, seeing the creature she'd feared take her and her pulse raced faster. This was the beast that wanted her. Wanted to mark her as his, to claim her as his own, and as Garrett drove her half mad with his mouth, it was the wolf's penetrating stare that caused her body to shatter, to come undone under the knowledge that some tiny part of her wanted it too.
How To Enter This Giveaway
1. Fill in at least ONE option on the Rafflecopter form. Winners will be picked using the form so follow the directions.
2. If you'd like extra chances to win, feel free to do the additional tasks.



This Giveaway is International and open January 14th - 20th.